---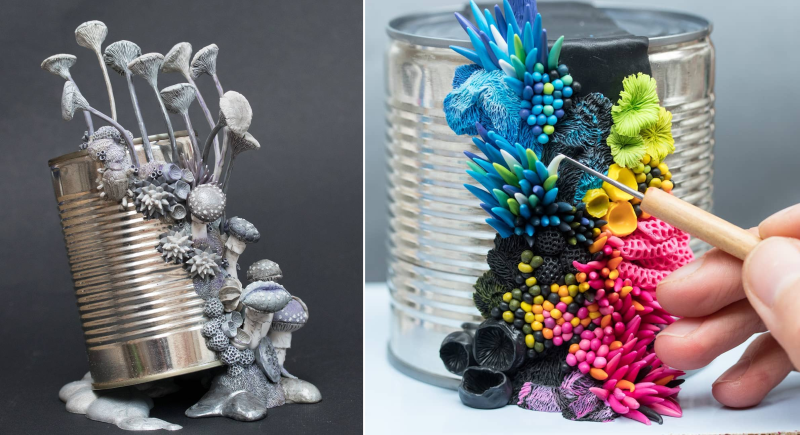 Art / Artists / Handicraft / Offbeat
Creating something practical out of trash is nothing new nowadays. But different artists have their distinct ways of embellishing discarded objects, making them both aesthetic and functional at the same time. French artist, Stephanie Kilgast, turns waste objects like tin cans, old cameras, and jam jars into vibrant amalgamations of coral-like sculptures.
Using discarded cans, broken plates or other waste materials, she forms colourful coral-like growths on these worn out objects. According to Kilgast, her artworks are an ode to life where plants and fungi are meeting animals, insects, and minerals. The vibrant swirls formed on found objects create a beautiful connection with humanity and nature.
She skillfully creates coloured crystals, mushrooms, beetles, and abstract form on the everyday objects that are collected by her from thrift stores and trash cans. Her detailed-oriented creations are the result of her hours of practice while creating hyperrealistic miniature food. Using polymer clay and similar hand tools that she used to create miniature food, she now forms attractive corals-like sculptures.
Kilgast often documents her creative process of making these coral-like growths in videos on Instagram, YouTube, official website and Facebook. Besides sharing her work with on social media, she also exhibits her artworks widely. Most recently, her art pieces were a part of the themed group show "Monochrome" at Art Number 23 in London.
Via: Colossal