---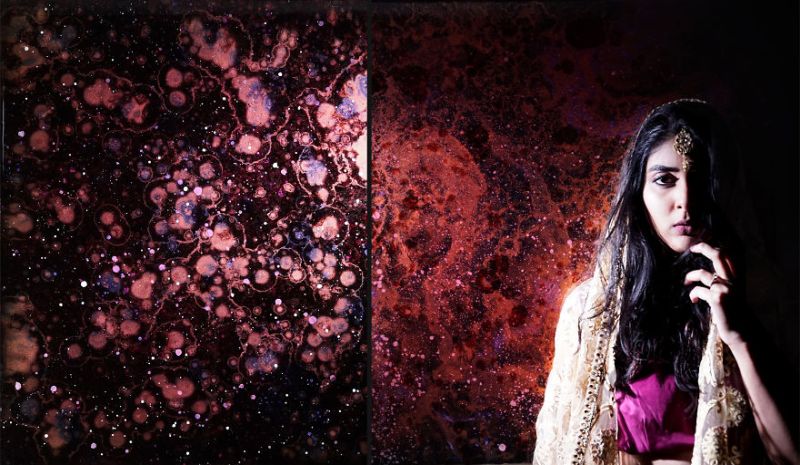 Painting
Toronto-based contemporary abstract artist Shehrezade M. B. has created her own signature-style paintings using resin and pigment. Although her paintings are visually-appealing and amusing, her process of creating each art piece is equally fascinating. Her latest art series, dubbed Saltanat, consists of stunning Galaxy Paintings that are made by manipulating multiple layers of resin and pigment through different techniques like a blow torch, as well as using various flammable and fire solvents.
With the help of changing techniques, Shehrezade is able to add rustic appeal and hypnotizing depth to each of her creations. Most of her paintings are influenced by the conflict between control and chaos that often arises in her unconscious mind.
Shehrezade completed her schooling in traditional forms of art but often found that her art ability was kind of suppressed even in the best art institutions, which were actually meant to flourish art skills. Despite that, she got distinction and scholarship in the first year at art school. However, she never wanted her creativity and imagination to be limited to the traditional conventions of her academy. So, she decided to work hard and develop her own signature style.
Her Saltanat series has drawn inspiration from the beauty of Mughal Architecture, Art, and Textiles. After looking at her work, we can say that her paintings are unique – as each one is made with some experimental instincts, and unforeseen moments to achieve the end result. The depth of her artwork is hard to convey in words or in a simple photo. You actually need to see her creations right before your eyes to experience the flourishing aura of the Mughal Empire.
Today, her artworks are displayed at various private collections throughout the world. Find out more about her unique paintings on her official website or Instagram.
For now, you can check out some of her amazing galaxy resin paintings in the video and images below.