---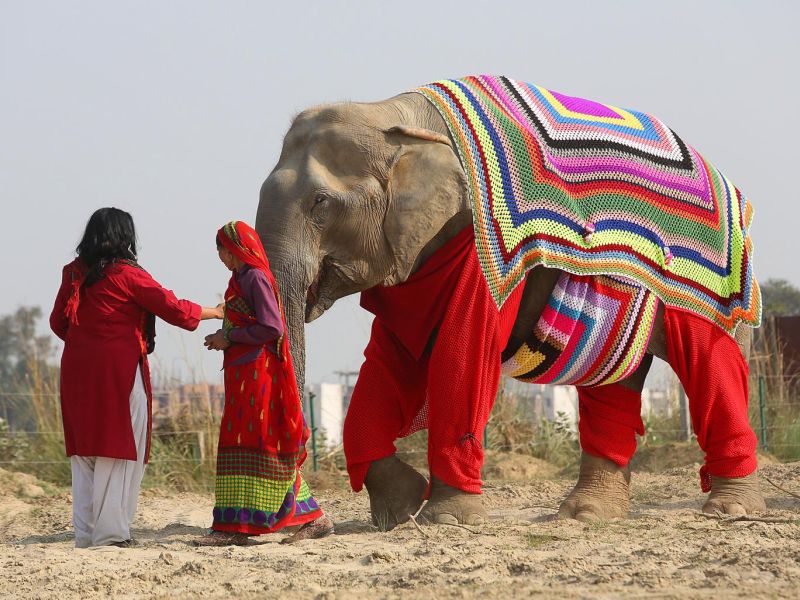 Offbeat
While we tend to load ourselves with clothes to stay warm in winter, poor animals have no way to escape the freezing temperatures that even drops to sub-zero at night. Fortunately, a few kind women in a village neighbouring the Wildlife SOS Elephant Conservation and Care Centre in Mathura have taken the initiative to make knitted jumpers for elephants to brave the winter chills.
The conservation centre in Northern India rehabilitates abused elephants, who have suffered chronic neglect and beatings from previous cruel handlers. Now, these elephants are able to live safely in peace along with proper nutrition, but the cold snap often leaves them shivering through the night – such cold weather is really tough to survive especially for elderly animals.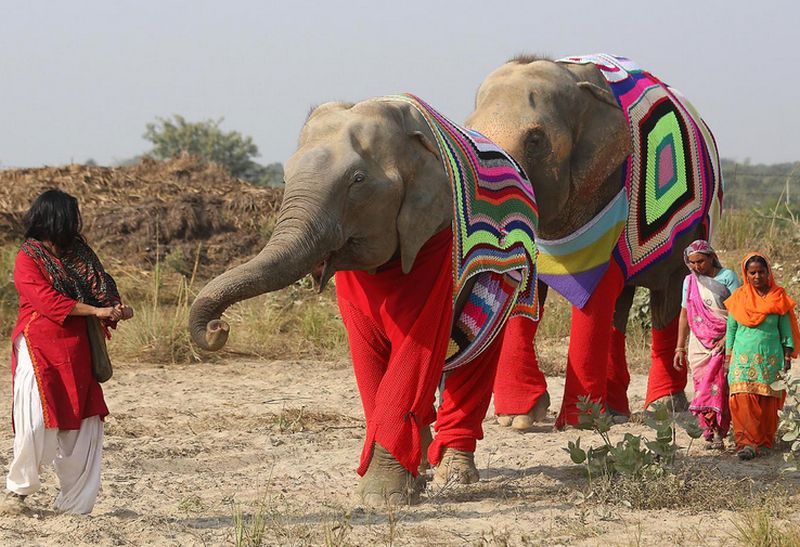 All thanks to the brightly coloured and stylish woolly attire, now these beautiful creatures can stay warm even during near-freezing temperatures. These jumbo jumpers are beautifully embroidered and can easily be wrapped around the giant mammals without any discomfort.
According to Kartick Satyanarayan , the co-founder and CEO of Wildlife SOS,
It is important to keep elephants protected from the bitter cold during this extreme winter, as they are weak and vulnerable having suffered so much abuse making them susceptible to ailments such as pneumonia. The cold also aggravates their arthritis which is a common issue that our rescued elephants have to deal with. This winter we are making jumpers to give the jumbos in our care some warmth.
Currently, the centre houses 20 rescued elephants and the team further plans to rescue more elephants in 2017 and even hoping to expand the sanctuary for more animals. The centre staff is doing a commendable job. We hope that people in other parts of India also take care of animals like these kind villagers and the team of Wildlife SOS.
In the photographs below, there are female elephants wearing the chic jumpers, covering their legs, back, and neck – while centre staff and villagers are standing beside them.
Via: Independent