---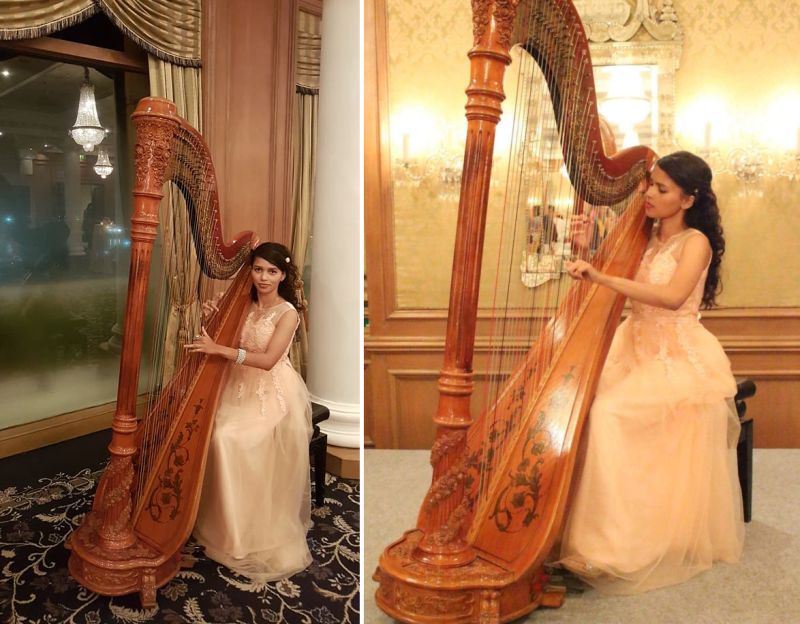 Instruments / Interview / Music
While there are many platforms for musicians nowadays to showcase their talent, independent Indian musicians have to struggle a lot – from finding the audience to sponsors. But what if, you play an instrument that's not very popular in mainstream Indian music or in the country itself? Fighting against the odds, Mumbai-based Meagan Pandian has managed to learn Harp, a rare instrument in Indian music scene.
Being one of a very few professional harpist in the country, Meagan is the first Indian harpist who has already been a part of A.R. Rahman's concerts and even toured abroad as part of the music ensemble of many concerts by Arijit Singh.
Recently, we got a chance to know more about her and how she began playing this interesting musical instrument. Let's take a look at her music journey so far.
Beginning of her musical career
Meagan Pandian is Goan in origin, but born and brought up in Mumbai. She attended school through Grade 6, then, her parents decided to home-school her along with her three sisters so that they can pursue their passion for music. At the age of 10, she found her interest in playing harp when she saw the harpist Greg Buchanan playing the pedal harp on an evangelical program on television. She instantly fell for the musical instrument and decided that if given an opportunity she would definitely learn how to play it.
But in India, no one really knew about the instrument, so purchasing it was a whole new struggle. After winning the Young Musician of the Year award in 2014, she got a chance to attend a summer school in France. That's when she saw harpists perform and even tried playing the harp for the first time in her life. Her dream that she had put away for fourteen years re-emerged and instead of waiting for the opportunity, this time she decided to create the opportunity and learn the instrument.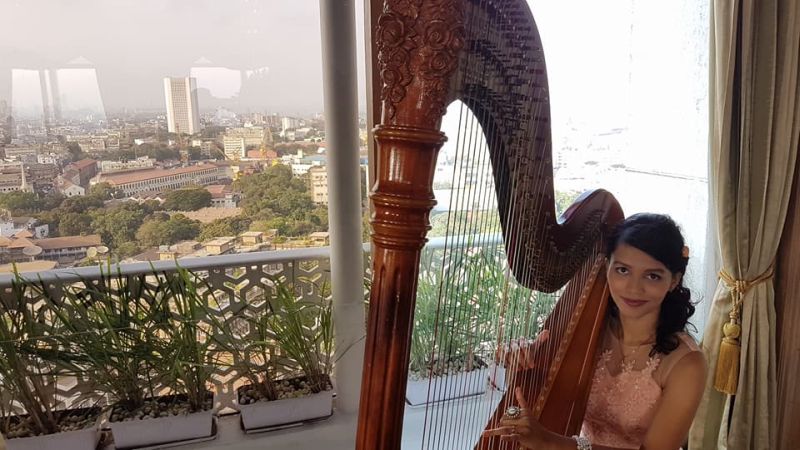 After returning to India, she started talking to people about her passion for learning the harp. She even used to visualise herself playing a full-size pedal harp, despite the fact that she had no idea how to get one. After some time, Meagan got in touch with an American harpist and learned with her over a period of two weeks. After a few lessons, the American harpist even agreed to sell her harp to Meagan with a monetary deposit.
Meagan and her husband overcame the major hurdle of obtaining the harp and managed to pay for it over a year's time. Soon after her harp teacher left for America, she contacted a visiting harpist to teach her in person for four months. However, she even remained in touch with her first American harp teacher, who again started giving her online lessons. After two years of learning, she played her first solo harp concert at the National Centre for the Performing Arts in Mumbai.
About Harp
The harp is one of the most ancient instruments in the world. The earliest harps were developed from the hunting bow. The wall paintings of ancient Egyptian tombs dating from as early as 3000 B.C. show an instrument that closely resembles the hunter's bow, without the pillar that we find in modern harps. Today there are mainly two types of harps – the lever harp and the pedal harp. The lever harp is only played with the hands while the pedal harp has seven pedals so you play the instrument with your hands and feet.
Her musical training
She has completed the LTCL diploma with Trinity College London, the Dip. ABRSM diploma with the Associate Boards of the Royal Schools of Music, London and won the 'Young Musician of the Year 2014' national scholarship award in piano performance from the Olga and Jules Craen Foundation, which took her to France for a summer training.
She also played the violin with the Bombay Chamber Orchestra, Indian National Youth Orchestra, and Indian Youth Orchestra. She even used to teach music with my her two younger sisters when she was twelve. At the age of 18, she was on the faculty of the International Baccalaureate School Fazlani L'Acadamie Globale for piano studies. Teaching at Fazlani, the Mehli Mehta Music Foundation (MMMF) and giving private tuitions, gave her hands-on experience in music education and teamwork. Not only that she also completed her Bachelor's degree at Mumbai University in Psychology and Sociology.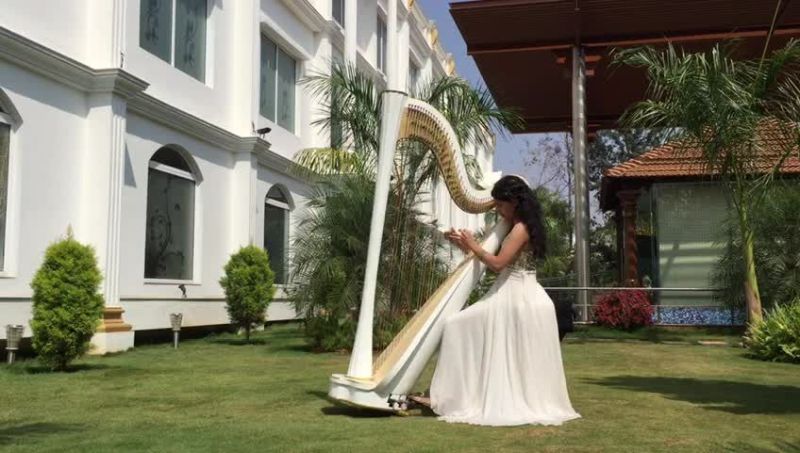 Her achievements and performances so far
In one year and ten months, Meagan completed three harp exams (the last being the Grade 7 with the Associate Boards of the Royal Schools of Music with distinction), one orchestral performance with Boshluv Martinu Philharmonic from the Czech Republic, two recitals at the National Centre for the Performing Arts in Mumbai and collaborated with vocalists and instrumentalists in both Indian and Western Music.
From 2015 to 2017, she has even performed in all the major cities of India and abroad in Sri Lanka, Dubai, Singapore and Bangladesh. She has even collaborated with Maestro A.R.Rahman, Pritam, Arijit Singh, Vijay TV, Zee Yuva and MTV Unplugged. As part of the 'Bringing the harp to India' vision, she has given lecture-recitals at the Homeless Street Children's Project, YMCA outreach for the underprivileged children in Mumbai, Christ University, The Bangalore School of Music, The Octavium Music Academy in Bangalore and The Wandering Artist in Chennai.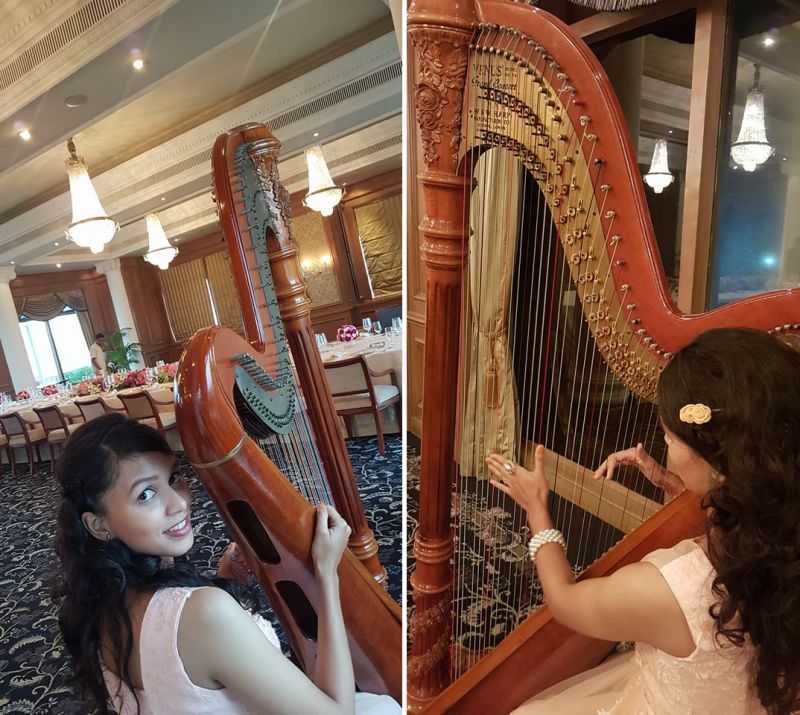 Challenges she faced during her musical journey
It was difficult for her to get an instrument that cannot be purchased in India. The cost of the instrument, shipping, plus 50-percent duty on the total cost makes the harp unimaginably expensive for a common man in India. Moreover, there is no 'harp' education available in the country. So, if one manages to get it here, he/she has to learn it the difficult way just like Meagan.
After purchasing it, another challenge for her was to learn it and maintain it over the years. The pedal harp has 47 strings and if a string breaks she has to import it from the USA. It has been a challenge maintaining a balanced temperature around the harp, otherwise, the strings break more easily. Even she has to import all her books and harp accessories since nothing is available in the country.
According to her, all these challenges have been easier to overcome than the challenge of racial discrimination she faced in her own country. In the interview, she mentioned that,
Whenever there is an inquiry for a musician to perform, Indians do not want Indians. Foreign artists are given preferential treatment. This is even worse than racial discrimination in the West because here we are discriminated against by our own people. This is especially fuelled by the fact that event managers can charge more if they have foreign artists perform for events and hence they promote them. Also unlike the West, we do not have musician's unions here to safeguard our rights which make it very difficult for upcoming musicians to stand their ground. We pay all the taxes for the purchase of instruments and again we are taxed on our income through performances whereas foreigners do not face any taxation at all either in getting their instruments into the country or for their performances.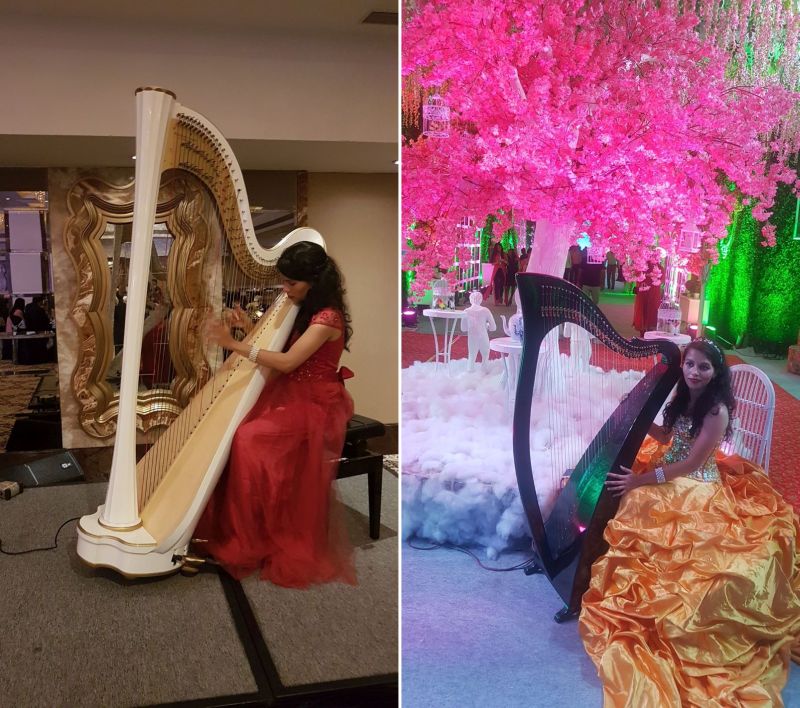 What keeps her going
Despite all the odds and challenges, she feels overwhelmed by the support and encouragement she receives from her audiences. Even people in their 60s or 70s have walked up to her after a concert with tears in their eyes, saying they never knew such an instrument even existed. Most people have seen pictures of angels playing the harp on television but never in person.
Her never-ending passion for learning harp is the only reason that brought her this far. She still deserves much more recognition and appreciation for her work. We hope that she gets worldwide acclaim for her work and even people in India start accepting Indian harpists as serious performers, like other musicians.
Kudos to you, Meagan! EdgyMinds wishes her all the success for her future projects.
You may find out more about her work on the Harp India social handles – Facebook, Instagram, and Twitter. For now, check out some amazing performances by her in the videos below:
Piano