---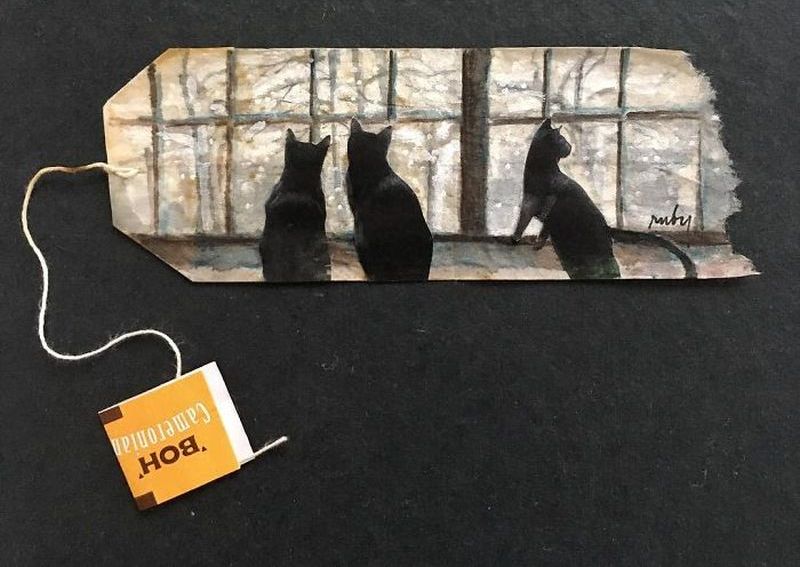 Art / DIY / Offbeat / Painting
It's not a well-kept secret that almost every artist owns a personal diary full of creative content. But a few artists like to stand out from the crowd. Falling in the same category, New York-based artist, Ruby Silvious, has her unique way of keeping a journal. Instead of a regular memoir, she picks used tea bags that we instantly throw away after finishing our tea.
But this creative artist uses these discarded tea bags as her innovative canvases to make miniature paintings. You must have a look at her tiny paintings, as each one speaks for itself through bright hues and elegant expressions. On her post on Bored Panda, Silvious has written, "The used tea bag is not very attractive. But while you may see a soggy, stained tea bag, I see a blank canvas."
She uses tea bags to keep a record of her daily visual impressions of the moment. She paints new artwork every day – sometimes her paintings are evocative and sometimes whimsical. But all her illustrations are beautiful and seems to share an untold story.
To challenge her creative skills and hope to spark some inspiration, Silvious began painting on tea bags in 2015. According to her, "reimagining the discarded as art inspires new forms of creativity." Moreover, it shows different ways we can revamp old or discarded materials in different artistic ways.
You must check out how creatively she upcycles old tea bags by turning them into art objects. Also visit her website, Facebook or Instagram to know more about her work.