---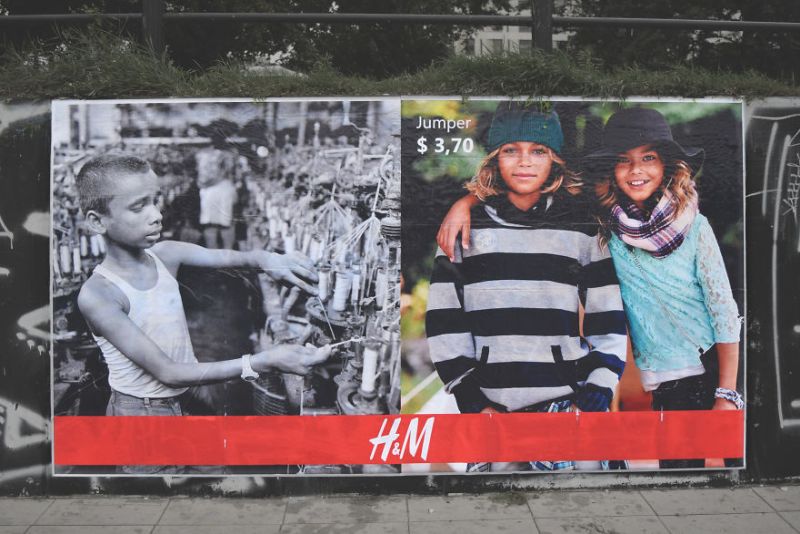 Photography
Polish artist Igor Dobrowolski made billboards showing the greed and horrors of fashion industries and displayed them on the streets of Warsaw, Poland. In his work, he illustrates how workers are treated in the industries to create fancy clothing for fashion models.
Do you know nearly 1,134 people DIED after clothing factory building collapse in Bangladesh. The three of the four biggest tragedies in fashion history took place in Bangladesh in 2013. In order to make clothing faster and at cheaper prices, owners often reduce the wages of their employees. Plus, the working conditions and safety measures are also lowered in the factories to produce large amount of clothing in less time.
"We are actually profiting from their need to work, to use them as slaves, and I'm not saying that we shouldn't give them the work, but they have to be treated with the same respect as our children or friends. They're not different from us " – Livia Firth.
With no respect to environment, the owners make these poor workers go through harsh working conditions. You can see the billboard images (given below) to see the conditions in which some factory employees have to work. Often due to lack of safety measures, buildings collapse or other accidents take place in factories.
In case of accidents, the factory owners may get the money from insurance companies but poor workers are not given the proper wages or the treatment. Check out the given billboard images to see the harsh reality of fashion industries.