---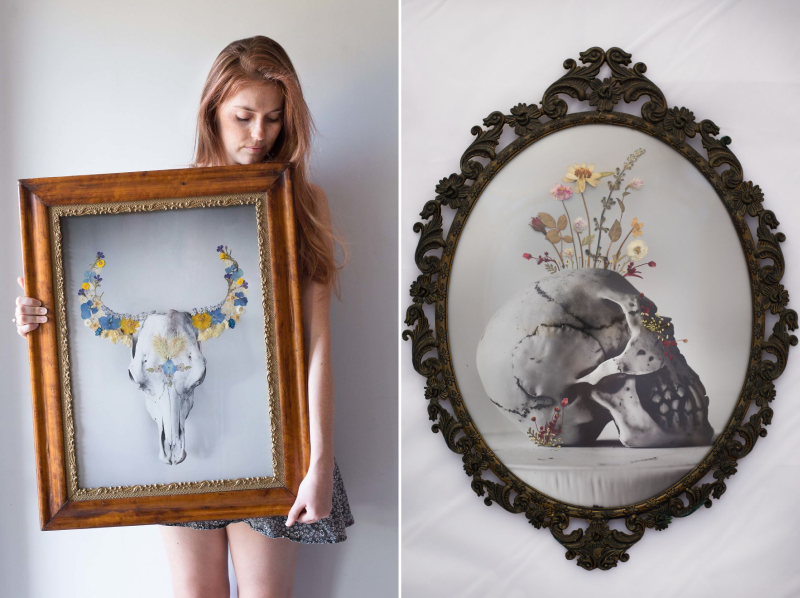 Art / Design / Photography
Australian photographic artist, Phoebe Hofsteede, uses mixed media to express her love for nature, and make all her creations out of recycled materials. The latest artworks by Hofsteede emphasis on sustainability with the use of recycled vintage frames that holds stunning photographs including real pressed flowers.
For each artwork, she collects or purchases pressed flowers and glue them on printed photographs. On completion, she preserves her each original artwork within recycled vintage or antique frame. Through recycling, she not only wants to help the environment but also creates a sense of nostalgia that you usually get while seeing classic photographs or paintings.
To portray a balance in the world, her creations depict a view of life and death, yin and yang, while highlighting ways to help the environment through recycling. She expresses the concept of life and death through skull and flower portraits – in which lively and colourful flowers reminds us of new life, whereas skull is the symbol of death. It seems her creations are reminding us that "end is just a new beginning."
The colours, shapes, and textures of these art pieces are something most artists strive to emulate — and Hofsteede works with what earth has to offer. With her nature-inspired creations, she aims to bring awareness to the importance of caring for and preserving the environment.
What she makes with Mother Nature is absolutely breathtaking. Check out her gorgeous creations in the images given below, and also see her more artworks on her official website.