---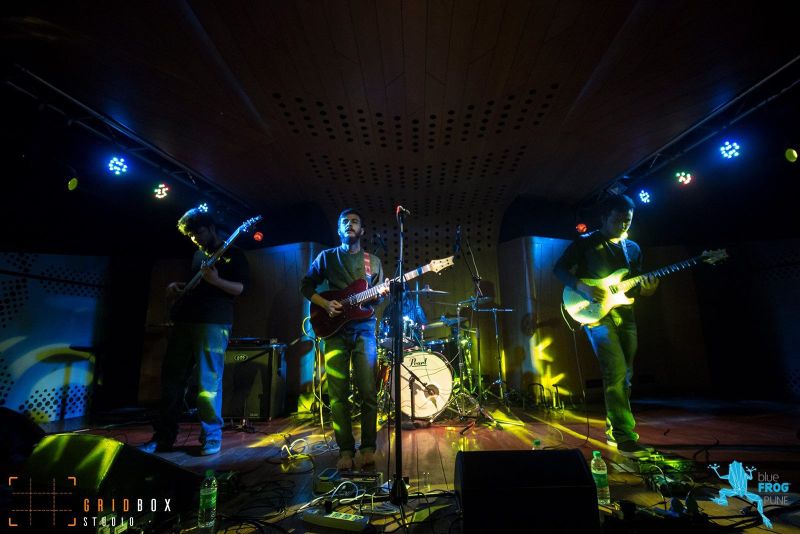 Artists / Interview / Music
Whether heavy or mellow, post-rock is such a wonderful music genre that delivers a message via instruments, resonating emotion or imagination. While some of you may already have your favourite post-rock bands, we recently came across a home-grown Shimla/Pune instrumental rock band – The Reasonable Hope that deserves a listen!
What started as a college band by guitarist Yaduveer Singh Thakur and drummer Samar Shinde (when they met in Pune) has now turned into a full-fledged post-rock act that also includes guitarist Manish Thami and bassist Anant Shukla.
The band has recently released their two-track debut EP, Reminiscences, which is recorded by sound engineer AJ Eates at Rhapsody Recording in Pune. The tracks "Amidst the Pines" and "Row and Sing" are greatly influenced by nature, imagination, and their experiences and memories of teenage days. Through their ethereal music, they're depicting how open skies and the stars are way beyond the horizon.
EdgyMinds got a chance to interact with Yaduveer Singh Thakur, who actually started this band with Samar Shinde in 2013. Continue reading for the full interview and to know more about The Reasonable Hope
EM: Tell us something about your band – how and when it was formed? Any significance of the name "The Reasonable Hope"? About the band members.
Yaduveer: I had been writing some music at the latter part of my school in Shimla and when I moved to Pune for completing college, I started giving it a better form and structure. I met Samar (drums) in college and introduced him to post-rock and the material I had written. We started jamming sometime in 2013 as a two-piece project only to realise we needed more people for the live setup. We got our friends Manish (guitars) and Anant (bass) and they pretty much filled in the blank spaces.
Genre- We primarily play Instrumental Rock (popularly labelled as Post Rock).
Inspired by the quote. "there is but one solid basis of happiness, and that is, the reasonable hope of a happy futurity," I named this project – as I felt that the whole experience of writing this music was bringing us happiness and this was the primary reason we were doing this.
EM: Who are your music influences?
Yaduveer: I like to put my experiences, imaginations, nature and art as my primary influences for writing this music and they remain the primary driving force. Musically the influences are so vast that it would be unfair to list a few particular artists. However I can say that the Indian independent music scene has been extremely influential, webzines/magazines like RSJ and Rolling Stone India have been of an essence and we wouldn't even have existed if not for them. In terms of similar genres, there are again so many artists, but to name a few I would say bands like EITS, Long Distance Calling, Alcest, This Will Destroy You could be the major influential ones.
EM: Tell us something about the EP and the two tracks that have been released. What is the inspiration behind these tracks?
Yaduveer: The EP, as titled Reminiscences, is more or less a collection of different memories and thoughts from the later part of my teenage days. While 'amidst the pines' is more about nature and surroundings that I grew up in, 'row and sing' is more about some of my experiences and people that I've spent a lot of my time with, but both the tracks are heavily driven by the imagination factor. As a band, we spent close to two years polishing and bringing these tracks to life and they are more like the inception of this project.
EM: What were the biggest challenges that you faced at the beginning of your musical journey?
Yaduveer: Everyday is a challenge when you choose to pursue art/music. And the challenges remain somewhat similar throughout. Lack of Monetary satisfaction being the primary one, especially when you're creating something on a niche end and not commercially. Apart from that, I think your network and contacts make a major difference too. No matter how good your work is, if you're unable to put it out to your target audience, you won't be able to achieve what you're aiming at. It was a bit hard initially as I did not know many people in the independent music scene personally but eventually it did get better and the support of a few friends (Steve Chinoy, Palash Kapoor, AJ Eates and the guys at Gray Spark Audio, Celestial Teapot and Blue Frog Pune) brought all the difference.
EM: What are your future plans – any upcoming projects?
Yaduveer: Well there's a lot more in store, and those who have been to our shows are well aware of this. We have a lot of other songs that define what we actually sound like. Hoping to record more stuff soon and put it out. Apart from that, we are also working on different collaborations with some very talented people for videos for both the tracks and they should be out in the next few weeks.
Though both their tracks are amazing, our personal favourite is "Amidst the Pines." Hope they get all success in their future endeavours.
You can listen to the EP here:
The Reasonable Hope Live at Blue Frog Pune