---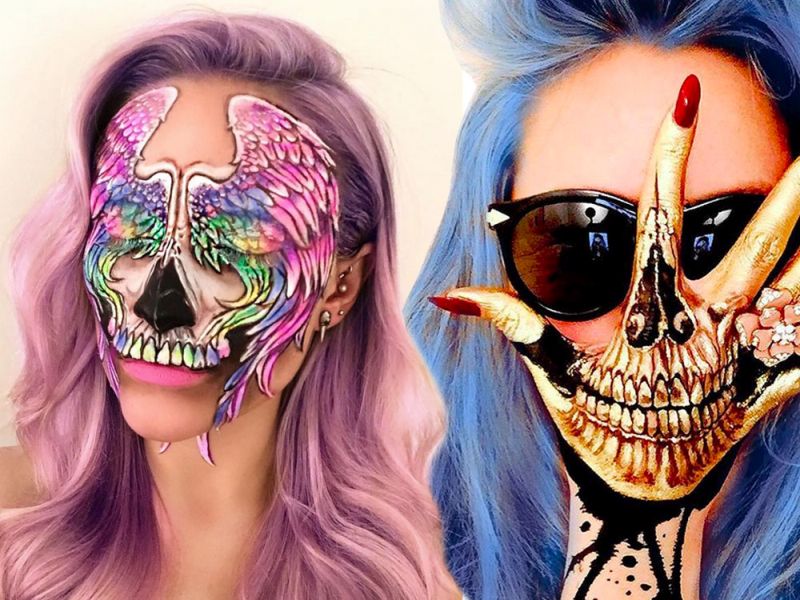 Art
London-based badass makeup artist Vanessa Davis, popularly known as The Skulltress, is highly drawn to skull symbolism – which primarily represents death and mortality. Her skull-inspired face art additionally features a live animal or plant next to the cranium. This way her makeup art highlights the fragility of life in a unique way. If we think over it deeply, it depicts how every living thing meets its end sooner or later.
Davis creatively tries to find different ways to spruce up her face art. To enhance the skull aesthetic she often experiments with motifs of colourful koi fish, butterfly wings, rising Phoenix, neon hologram, etc. Her each artwork transcends traditional and trendy skeletal face paint to create out-of-this-world looks.
She is fascinated by how skulls are portrayed in art, fashion, and tattoo designs – creating something artist and symbolic at the same time. She is particularly influenced by the works of Alexander McQueen and Damien Hirst. She keeps posting her skull-centric makeup art on Instagram. Some may find it intimidating, but you simply cannot ignore her creativity and impressive artistic skills.
Check out some of her self-designed skeleton makeup looks in the images below.