---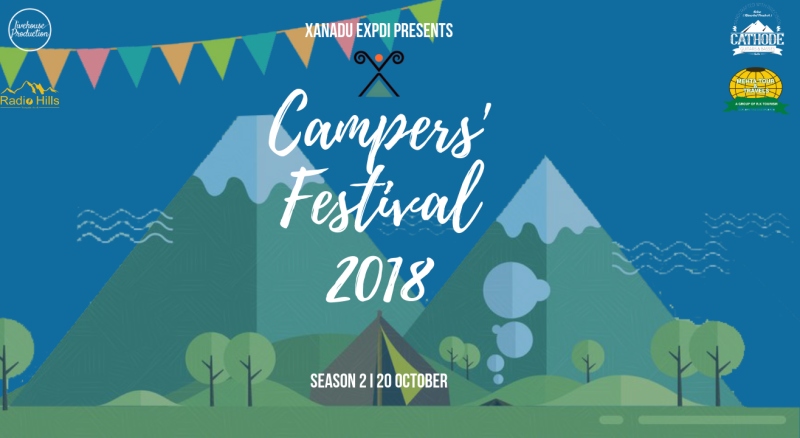 Artists / Music
With the festival season about to kick off, Xanadu Cafe in Solan has announced the Campers Festival Season 2 for all adventurers. This happening music festival draws music lovers like a moth to its flame and everyone wants to be a part of it. Why not? There's live music, camping, nature walk, magic show, and everything you'd expect at a tranquil place surrounded on all four sides by hills.
The thrilling festival organized by Xanadu Expdi at Xanadu Cafe, Solan promises to repeat all the fun and highlights from the Season 1. If you attended the last year's Camper Music Fest, you know music and nature lovers come together at this seasonal event to party hard and take back a bag full of wonderful memories.
What to Expect at Campers Music Festival Season 2?
Below are the highlights of this two-day fest that will be held on October 20 and 21:
* Zero plastic session and cleanliness drive in collaboration with Healing Himalayas.

* Magic show that will leave the audiences jaw-dropped.
* Camping by Riverside
* Morning yoga sessions followed by outdoor games
* Waterfall hike and village walk
* Try your luck at Xanadu lottery
* And, of course, the Live Acoustic Sessions by amazing musicians hailing from the Himalayas.
Here's the artist lineup:
Shubhank Sharma: An ingenious singer, songwriter, composer and, multi-instrumentalist. Often words fall short while describing his talent. His soulful voice and lyrics are enough to captivate the listeners. You surely cannot afford to miss out his performance, if you're here.
Pradeep Chauhan: A music teacher by profession, Pradeep Chauhan is another talented singer with a profoundly soulful and spell-bounding voice. This classical singer and keyboard player is well-known for his unique song selections and beautiful executions.
Neelkanth Pathak: He is the lead singer of the band 'The Khalnayak'. Just at the age of 21, this young talented musician is making his mark with the original self-compositions. He and his bandmates have grabbed a lot of titles in the battle of bands and are giving a new edge to indie rock scenario.
This Campers Music Festival- 2 is offering you a much-needed break from your hectic work routine. But, don't keep waiting! Just book your tickets right away, as there are only a limited number of Season + Camping Tickets available due to space restrictions. You can book your tickets through Insider or Xanadu's official website.