---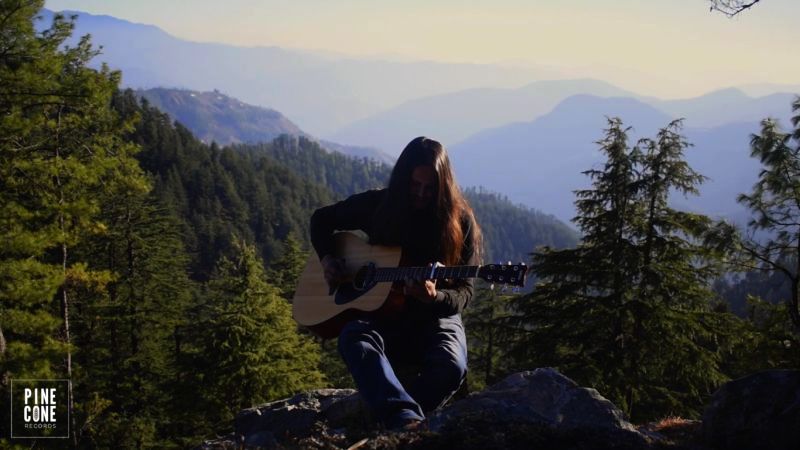 Artists / Featured / Interview / Music
Shimla-based acoustic fingerstyle guitarist Pranjal Uniyal's upcoming debut EP, Forth and Back is all about storytelling through music, conveying emotions and connecting with people. Releasing in collaboration with The Pinecone Records & Sessions, the forthcoming EP effortlessly combines storytelling with acoustic percussive fingerstyle tunes, taking listeners on a beautiful musical journey.
The EP includes three tracks, out of which the track "Glad to be Back" was released on 23 February 2019 and it has already been receiving a positive response. It is the third track from the EP and it tells a tale of Rachanachar, who travels to faraway lands in search of the ultimate truth of life. He returns to his homeland after the self-exploration journey, without any answers to the questions that always used to bother him. However, he's glad to return to his native land and connect with the people here.
"The EP will have two more original songs called Bon Voyage (it is the part where he travels to the faraway lands), and Faraway Home (this track is about when Rachanachar reaches the farthest point on the globe)," says Pranjal.
Edgyminds recently got a chance to interact with Pranjal and he shared very interesting details about the EP, as well as his musical journey so far.
Find out the full details about the EP and how Pranjal began his musical journey in the interview given below:
EM: Tell us about yourself:
* Where are you from?
Pranjal: I'm from Shimla as my grandfather migrated from Uttrakhand to this lovely town somewhere back in the time around the independence.
* When you started playing guitar?
Pranjal: I started playing guitar around 9 years ago.
* What inspired you to be a musician?
Pranjal: I never intended to compose something of my own until I heard Ocean by John Butler one day, and at that moment I knew what I wanted to do for the rest of my life. I went back home, tuned my guitar to the Open C tuning, and from that day, started experimenting on different tuning,
* Who are your music influences?
Pranjal: Later on, went on to discover the beautiful music of Sir Tommy Emmanuel, Andy Mckee, Antoine Dufour, Calum Graham, Estas Tonne and many more, which all collectively helped on shaping my musical approach and style.
EM: Brief us about the EP and the released track, as well as the upcoming tracks.
Pranjal: 'Forth And Back' is going to be a 3-track EP having all original songs. Its a concept EP telling the story of Rachanachar, where he travels to the faraway lands in search of the ultimate truth but returns later after reaching the farthest point on the globe and not finding the answer to his questions.
The 3rd track, 'Glad To Be Back' from this EP where Rachanachar returns to his people, has been released recently on YouTube along with an official playthrough video. The EP will have another 2 original songs namely, 1. Bon Voyage(where he travels to the faraway lands), and 2. Faraway Home(where he reaches the farthest point on the globe).
EM: What is the inspiration behind "Glad to Be Back" and the entire EP?
Pranjal: This EP is part of the bigger picture of the life story of Rachanachar. In this EP, I've tried to cover the travelling phase in Rachanachar's life.
The inspiration behind this EP is the situation/phase in our lives where we instead of having everything that we need and everyone who loves us and care about us, how we move further and further away from those ones over the time while the communication between us and them comes to almost zero, a point where both the parties are so distant away from each other that they cannot understand each other. When relationships turn sour and no efforts seem to be made over a long period of time to ensure that we still care for each other.
But, if returned and made efforts, no other blissful thing can be there as such.
EM: What were the biggest challenges that you faced or are still facing in your musical journey?
Pranjal: The biggest challenge that I faced and every musician faces at some point in time in their life is to find their originality. I struggled to find what I was born to deliver, and many times you feel like you can't do something unique, and that is a haunting thought. Sometimes, I still feel like if the bag is empty and what if I'm not able to compose any other songs from now on.
EM: Would you like to give any message to the upcoming artists, who are still struggling in their respective industries?
Pranjal: The message is to pursue your passion with dedication and patience. These two factors when dealt with correctly will contribute to shaping your personality over the years which clearly reflects through your art.
EM: What are your future plans – any upcoming projects?
Pranjal: After this EP comes out, my plan is to take it to a varied audience across the land and play it live. After some months, I'm going to enter the studio again to record the rest of the story of Rachanachar.