---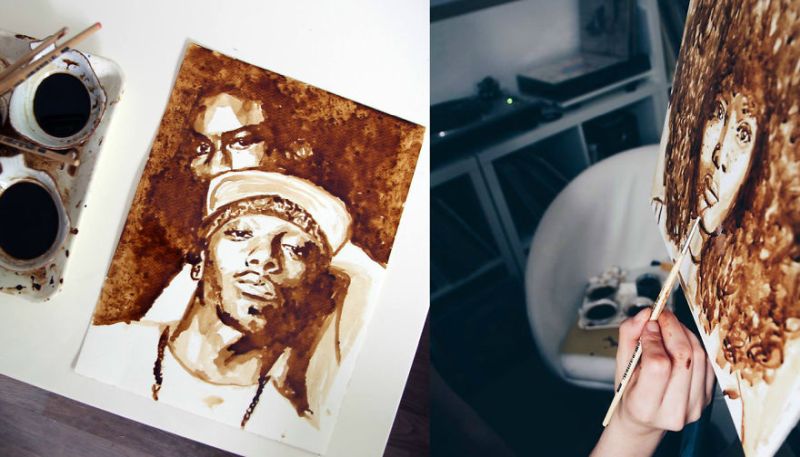 Art / Artists / Painting
For some artists, coffee is more than a beverage – it's their medium for creating art. Named @crade.one on social media, this creative artist is a coffee addict and also likes to use coffee as a painting medium to create portraits of different musicians. She started coffee painting about two years ago and her artworks are totally worth your attention.
Her sense of detailing incredibly reflects through her work and it's amazing to see how she manages to create different effects using just one medium. Two years ago, she started reading about how Parisian artists in the 17th century used to create art using wine, tea, and coffee. She was intrigued by the technique of using beverages as paint and how one medium can give a wide monochrome colour range.
Since she loves coffee, she decided to give it a shot and began painting with her brew. This form of painting surely caught up her interest and we're glad that she followed her instincts. Her subjects are some of her favourite musicians, as she loves to listen to music while she paints. She usually re-brews the coffee grounds at different strengths for the shading and creating various effects.
Besides coffee paintings, she also creates handmade wood frames for the pictures. The added bonus is that her studio keeps smelling of coffee, which she loves. See more for her work on Instagram and Facebook.
For now, check out some her paintings in the images given below:
Sun Ra
Alice Coltrane
Mobb Deep
Don Cherry
Miles Davis
Bob Dylan
Archie Shepp
Erykah Badu
Curtis Mayfield
Lee Morgan
Ryuchi Sakamoto
John & Alice Coltrane
Evidence
Brian Eno