---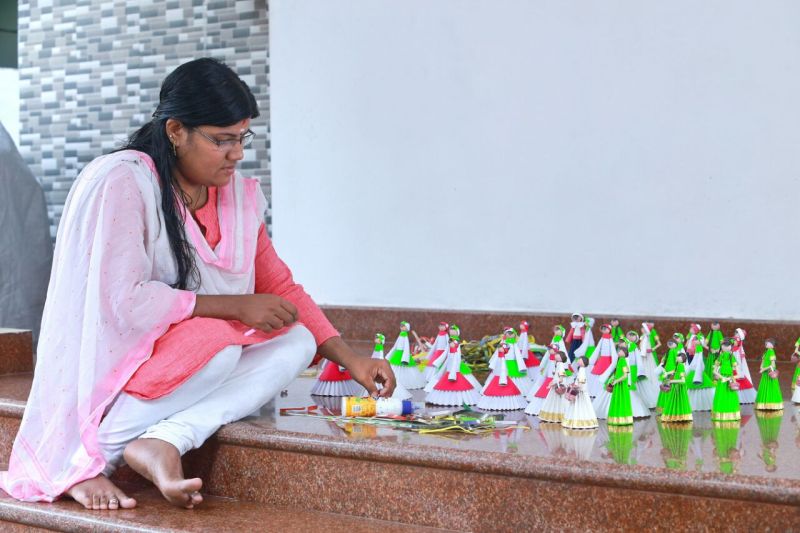 Art / DIY / Handicraft
Since the existence of human civilisation, the ability to handcraft sculptures and art pieces has remained with us. One of the ancient forms of craft is doll making. Skilled in this art form, Vijitha Retheesh, a native of Palluruthy in Kochi, creates pretty dolls by recycling paper. Not just one or two, but she has a full army of neatly packed paper dolls that appears to be made out of ceramics or other materials, rather than scrap paper.
Vijitha ensures that she used every piece of scrap paper, which she collects from old magazines, booklets, public notices, wedding invitations, advertisement fliers, and booklets. Created in hues of pink, white, green, violet and more, her paper dolls are epitomes for her creativity and hard work.
The artist puts great emphasis on detail, making sure that each doll has proper traditional headgears, gowns, sleeves and other necessary parts of the attire. Her stint in fashion designing inspired her to design the costumes of the dolls, which are pretty and colour coordinated. The colours used in each doll perfectly match with each other or form a stunning contrast that looks pleasing to the eye.
Vijitha has studied MA Psychology, and now a self-taught artist who also takes classes for kids at times. Her interest in crafts started growing when she was in Class 4. She used to take part in different school level craft competitions. But that time she used to create flowers and was more intered in quilling.
It was just a few years ago when she actually began making paper dolls. But her artworks look absolutely precise and detailed. Her paper dolls are not just about prettiness, they also spread a message to recycle. Each doll is made out of complete scrap, but the end result is quite stunning.
In 2016, Vijitha's creative recycled art got her national accreditation, when she secured herself a place in the Limca Book of Records for creating a huge handcrafted jewellery set. It took her almost a month to create the 50 feet necklace out of waste cardboard boxes, and the 2.5 feet 'jimikki kammal' that was created with the quilling method.
Not just at the National level, she has even made a mark at the international level. Last year, she earned a place in the Guinness Book of World Records for displaying 1,350 handmade dolls, which were made from waste materials in a span of five months. Another attracting thing about her display was that every single doll was distinct.
At present, the artist is working on her Do-It-Yourself (DIY) tutorial book that focuses on the benefits of recycling. We hope books becomes a hit and inspires many to recycle and reduce negative impact of waste on the environment.
Via: TheBetterIndia